Making Proper Pie Crust
Tonight, I gathered my materials (culled from careful research) and began making a proper pie crust.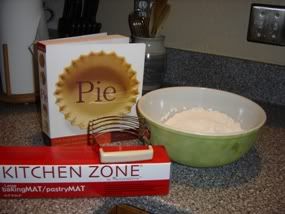 I decided to make this crust by hand and started cutting the fat (chilled shortening and butter) in with a pastry cutter.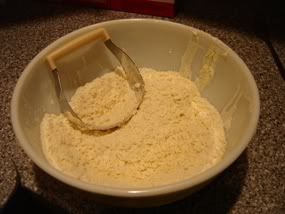 Once the dough was mixed, I formed it into a ball and put it in the fridge wrapped in plastic.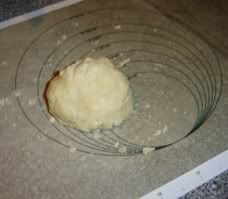 Once the dough was chilled enough (two hours or so), I began rolling out the dough on a sili-pat mat.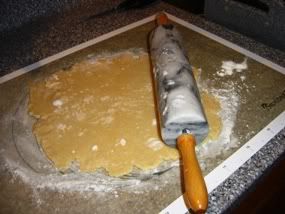 I then rolled the dough over the rolling pin and placed it into the pie pan.
Since I was making a pie which required a pre-baked crust, I filled the crust with dry beans (you can use pie weights but I didn't have any).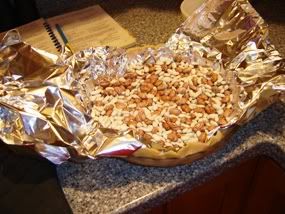 I baked the crust and finished it brushing an egg white over the crust before baking it for a few more moments.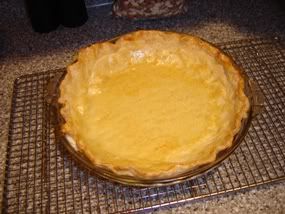 Then I began preparing the filling! I made a Lemon Meringue pie which required a two part baking experience. First I made the lemon filling.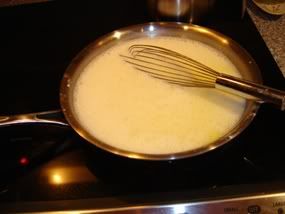 Here is where I had a bit of a slip-up. After making the filling (twice since I burned the first one) I filled the crust with the lemon filling BUT I neglected to let it cool enough before starting the meringue topping. The pie ended up a bit runny but still tasty all the same.
I spread the merigue on the pie and placed it under the broiler for browning.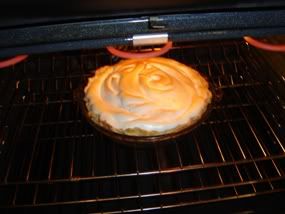 And then I served the pie to my test subjects (my parents) who gave the crust a hearty thumbs up!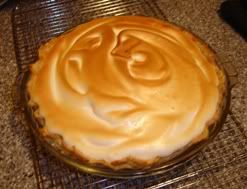 And that is number 3 off the list!
The Official List:
1.
Read 31 books
2. Read
Ulysses
3. Read the entire
Bible
4. Knit 14 items for the
Dulaan
project
5. Knit down stash
6. Start the
Master Hand Knitting, Level 1
Program
7. Focus on Photography by participating in
Photo Friday
8. Take
a photo a day
9. Run the Vancouver 1/2 marathon
10. Do a Tri
11. Learn the butterfly stroke
12. Learn to Dive
13. Run 500 miles (approx 9.6 miles a week)
14. Do 18,250 crunches (approx. 50 a day)
15. Continue my healthy lifestyle while losing weight
16. Find someone special through dating
17. Take up a Co-Ed Hobby
18. Complete
National Novel Writing Month
in November by writing a 50,000 word novel
19. Once a week, take one small risk
20. Continue with my Spanish studies by reading at least one book in Spanish
21. Volunteer
22. Proactively celebrate other's birthdays
23. Knit two socks at once on two circulars
24.
Do the Polar Bar Swim with Mot on New Year's Day
25. Organize my CD collection
26. FRAME the darn cat poster
27. Learn to cook one difficult dish (Our Chef at work is going to provide me with recipes for Duck Confit and Cassoulet -- CHALLENGING!)
28.
Get an iPod
29. Save Money
30.
Learn how to make proper pie crust
31. Take a trip somewhere, anywhere