iPod Revolution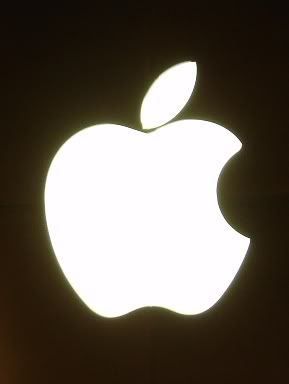 Tonight I joined the iPod Revolution! Mot and I met up at the Apple Store to purchase my new Video iPod using Mot's Student Discount.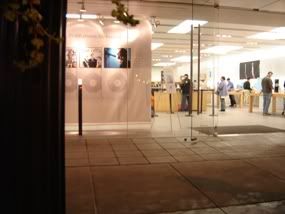 The purchase was quick and exciting. I still need to get accessories but since I was undecided and too excited about the inital purchase (using Christmas funds, of course!), I decided to hold off on getting the accessories tonight. Soon though, soon!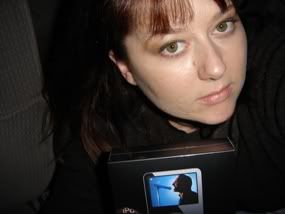 Number TWO knocked off my 31 in 31 list!
The Official List:
1.
Read 31 books
2. Read
Ulysses
3. Read the entire
Bible
4. Knit 14 items for the
Dulaan
project
5. Knit down stash
6. Start the
Master Hand Knitting, Level 1
Program
7. Focus on Photography by participating in
Photo Friday
8. Take
a photo a day
9. Run the Vancouver 1/2 marathon
10. Do a Tri
11. Learn the butterfly stroke
12. Learn to Dive
13. Run 500 miles (approx 9.6 miles a week)
14. Do 18,250 crunches (approx. 50 a day)
15. Continue my healthy lifestyle while losing weight
16. Find someone special through dating
17. Take up a Co-Ed Hobby
18. Complete
National Novel Writing Month
in November by writing a 50,000 word novel
19. Once a week, take one small risk
20. Continue with my Spanish studies by reading at least one book in Spanish
21. Volunteer
22. Proactively celebrate other's birthdays
23. Knit two socks at once on two circulars
24.
Do the Polar Bar Swim with Mot on New Year's Day
25. Organize my CD collection
26. FRAME the darn cat poster
27. Learn to cook one difficult dish (Our Chef at work is going to provide me with recipes for Duck Confit and Cassoulet -- CHALLENGING!)
28.
Get an iPod
29. Save Money
30. Learn how to make proper pie crust
31. Take a trip somewhere, anywhere